Rampage, Fora de Controlo
Trailer e Sinopse, Estreia a 12/04/2018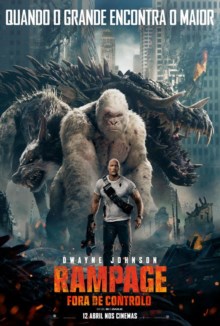 Davis Okoye é um primatólogo reconhecido que, nos últimos anos, se dedicou a acompanhar o crescimento de George, um gorila albino de personalidade dócil e inteligência superior. Apesar do interesse académico associado, a ligação emocional entre os dois vai muito além da investigação. Quando é feita uma experiência clandestina a um grupo de animais que inclui George, Davis vê o comportamento do seu companheiro alterar-se radicalmente, mostrando sinais de grande agressividade e descontrolo. Aparentemente, essa experiência alterou o código genético de todos os animais em estudo, transformando-os em predadores gigantescos, altamente perigosos e astutos. Ao perceber que o seu amigo se tornou uma ameaça para os seres humanos e que, muito em breve, terá de ser abatido pelas autoridades, Davis encontra apenas uma solução: descobrir um antídoto antes que o problema se transforme numa catástrofe à escala planetária.
Um filme de acção e aventura realizado por Brad Peyton ("San Andreas", "A Encarnação do Mal") que se inspira no videojogo com o mesmo nome criado pela empresa norte-americana Midway Games. Com Dwayne Johnson no papel principal, conta também com Naomie Harris, Malin Åkerman, Joe Manganiello, Jake Lacy, Marley Shelton e Jeffrey Dean Morgan.
Site oficial de Rampage – Fora de Controlo
Título original:
Rampage
De:
Brad Peyton
Com:
Dwayne Johnson, Jeffrey Dean Morgan, Will Yun Lee
Género:
Acção, Aventura
Classificação:
M/12
Outros dados:
EUA, 2018, Cores, 107 min.
Informação do site oficial:
RAMPAGE
In 1993, a breakthrough new technology, known as CRISPR, gave scientists a path to treat incurable diseases through genetic editing.
In 2016, due to its potential for misuse, the U.S. Intelligence Community designated genetic editing a"Weapon of Mass Destruction and Proliferation."
Global icon Dwayne Johnson headlines the action adventure "Rampage," directed by Brad Peyton.
Johnson stars as primatologist Davis Okoye, a man who keeps people at a distance but shares an unshakable bond with George, the extraordinarily intelligent, incredibly rare albino silverback gorilla who has been in his care since he rescued the young orphan from poachers. But a rogue genetic experiment gone awry mutates this gentle ape into a raging creature of enormous size.
To make matters worse, it's soon discovered there are other similarly altered animals. As these newly created alpha predators tear across North America, destroying everything in their path, Okoye teams with discredited geneticist Kate Caldwell (Naomie Harris) to secure an antidote, fighting his way through an ever-changing battlefield, not only to halt a global catastrophe but to save the fearsome creature that was once his friend.
"Rampage" also stars Oscar nominee Naomie Harris ("Moonlight"), Malin Akerman (TV's "Billions"), Jake Lacy (TV's "Girls"), Joe Manganiello (TV's "True Blood"), and Jeffrey Dean Morgan (TV's "The Walking Dead"); as well as P.J. Byrne ("The Wolf of Wall Street"), Marley Shelton (TV's "Rise"), Breanne Hill (TV's "Frontier"), Jack Quaid ("The Hunger Games: Catching Fire"), Matt Gerald (TV's "Daredevil"), Jason Liles ("Death Note"), Demetrius Grosse (TV's "The Brave"), and Will Yun Lee (TV's "Hawaii Five-O").
Peyton directed from a screenplay by Ryan Engle and Carlton Cuse & Ryan J. Condal and Adam Sztykiel, story by Ryan Engle.
"Rampage" was produced by Beau Flynn, John Rickard, Brad Peyton and Hiram Garcia. It marks the third collaboration between Johnson, Peyton, Flynn and Garcia, following the international blockbuster hit "San Andreas," Warner Bros.' highest grossing film of 2015, as well as 2012's global smash "Journey 2: The Mysterious Island." Executive producers were Marcus Viscidi, Dwayne Johnson, Dany Garcia, Jeff Fierson, Toby Emmerich, Richard Brener and Michael Disco.
The creative team includes director of photography Jaron Presant, production designer Barry Chusid, editors Jim May and Bob Ducsay, and costume designer Melissa Bruning. The music is composed by Andrew Lockington, who created the scores for "San Andreas" and "Journey 2: The Mysterious Island." Serving as co-producers were Wendy Jacobson, Josh Mack and Dana Robin.
The "Rampage" creatures were brought to life by acclaimed VFX supervisor Colin Strause, with five-time Academy Award-winning visual effects company Weta Digital.
A New Line Cinema presentation, in association with ASAP Entertainment, a Wrigley Pictures / F.P.C. / 7 Bucks Entertainment production, a Brad Peyton Film, "Rampage" will be distributed in 2D and 3D in select theaters, and IMAX, by Warner Bros. Pictures, a Warner Bros. Entertainment Company. This film has been rated PG-13.